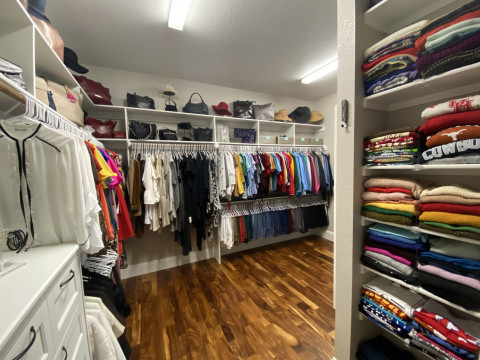 Services: Home Organization, DeCluttering, Interior Design, Packing, Unpacking, Digital Organization Senior Downsizing, Christmas decorating and more.
Residential Organizing - Get Organized! began serving clients in 2007 and has been featured in D Magazine, on Good Morning Texas, Good Day Fox, CBS 11 (DFW), CBS 19 (Tyler) and NBC 11, and has offered in-store workshops for IKEA Dallas. We have a 4.9 star rating on Google, "A" rating on Angi.com and 5 star rating on Houzz.com with over 60 reviews.
We are fully insured and cleared to work through background checks. We also work on small projects such as a garage or larger projects such as organizing an entire home or unpacking from a move.
Get Organized! specializes in areas including Entire Homes, Garages, Home Offices, Closets, Kitchens, Kids Areas (including systems for organizing kids school papers and artwork), Craft Rooms, Remote Storage Units, Packing and Unpacking, Senior Downsizing and Personal IT & Photo Organization. We also have a team for Interior Design, Staging and Christmas & Fall Decorating Services.
We make your home function with style by maximizing space, setting up organizing systems, shopping and building products if needed, purging, de-cluttering, dropping off donations, and/or offering resources for selling unwanted items. Get Organized! offers turnkey services for families on the move or a business relocating, and also works with clients who need help organizing a cluttered closet or pantry. It is our mission to create an organized environment that families or employees can maintain long after we are gone.
CLIENT REVIEWS:
1.) I have used other companies in the past but this was by far the Rolls Royce of experiences. The organizer seemed to read my mind in being able to understand my needs. I will definitely recommend Get Organized! to all who need some thoughtful, well-executed organization.
2.) I'd like to thank Get Organized! for turning my cluttered town home into an organized living space that my girls and I can enjoy. Over the past two days, my girls have slept in their own beds and have taken pride in picking out their own clothes and accessories to wear before breakfast & school something which wasn't possible prior. We all love our updated personal spaces.
Get Organized! works with professionals, singles, and small to large families including stay-at-home moms, empty nesters, corporate executives, NBA stars, NHL athletes, and individuals who work from home. Let us help you Get Organized!
Serving the Dallas/Fort Worth and its surrounding areas. We have organizers locally throughout DFW
Specialties
ADD/ADHD Expertise
Attics
Baby Boomer Downsizing
Basement Organization & Decluttering
Bathrooms
Bedrooms
Budgeting
Business Organization
Chaos Management
Check Book Balancing
Children's Rooms
Christmas Decorating
Chronic Disorganization Expertise
Closet Organization
Closet Organizing & Cleaning
Clutter Elimination & Coaching
Coaching
Combined / Blended Households
Computer Training
Consultant
Consultations
Consultations For Do-It-Youself
Consulting For Small Business And Entrepreneurs
Consulting Services
Coordinating Dual Residences
Craft Rooms
Decluttering & Reorganization
Decorate Spaces
Deculttering The Impossible
Downsizing
Email Management
Empty Nesters
Estate And Garage Sales
Estate Cleanouts
Estate Organizing
Estate Sales
Expert In Large De-cluttering Jobs And Estate Clean Outs
Extreme Clutter
Fall Decorating
Files
Filing & Storage Systems
Financial Organizing
Fun And Funny!!
Furniture Consignment Coordination
Furniture Placement Consulting
Game & Play Rooms
Garage Organization
Garage Organization (Cleaning, Storage Solutions)
Goal Setting
Good Will Dropoffs
Green Organizing
Help With An Empty Nester
Hoarding Help Specialist (Cleanup, Coaching)
Hobby Rooms
Holiday Decor & Storage
holiday Decorating
Home And Office Organization
Home Decorating And Staging
Home Offices
Home Organization
Home Staging
Home Staging (Homes for Sale)
Homework Organization
House
Household Management Coaching
I Work In The Whole House If Necessary.
Interior Design & Re-design
Interior Redesign With What You Own
Inventory
Kitchens
Labeling
Large And Small Areas
Laundry Rooms
Life Coaching
Life's Transitions
Listen To Clients' Needs And Concerns
Living Areas
Living Room
Living Room Organized
Medical Offices
Memorabilia Storage
Merging Families
Messy
Messy Bachelor Pads
Messy Houses
Messy Rooms
Move Management
Move-ins
Move-ins & Move-outs
Move-outs
Moving
Moving and Packing
Moving Assistance
Moving Coordination
Moving Organization
Moving Plan
Moving Planning & Preparation
Moving Support
Moving/Relocation
Mudrooms/foyers/entryways
Multi-purpose Rooms
National Association of Productivity and Organizing Professionals (NAPO) Member
Need A Speaker For Your Staff Meeting
New Baby
New Moms And Generall Y Busy Women
New Move And Unpacking Organization
Newly Married Couples Organization
Non-judgmental
Non-profit Organizations
Office
Office Organization
Office-Home And Business
Offices
On-Going Support And Maintenance Services
One On One Personal Shopping
One Room Or The Whole House
Organizing And Decorating Using What You Already Have
Organizing And Managing Your Move
Organizing Workshops
Overwhelmed
Packing & Unpacking Services
Pantries
Paper Management
Paperwork Organization & Management
People Feel Good In Their Homes Again!
Personal Coaching
Personal Shopping
Personalized Organizational Solutions
Personalized Organizing Solutions
Phone Sessions
Photo Organization
Photo Organizing
Presentation Training
Productivity & Time Management Coaching
Professional Labeling
Project Management
Public Speaking
Purging Closets & Drawers
Recycling
Recycling And Donating Services
Relocation
Relocation Coordination
Relocation Downsizing
Residential
Residential Organizing
Residential Organizing And Downsizing
Scrapbook Organization
Senior Community
Senior Downsizing & Transitioning
Shopping
Short Term Or Long Term Help
Small Business
Small Spaces
Sorting
Space Clearing
Space Planning
Space Planning And General Consulting
Space Repurposing
Space Saver Ideas/suggestions
Specialties: Helping Seniors
Staging For Living
Staging To SELL
Student Organization
Students
Team Organizing
Teens
Thanksgiving Decorating
Tips For Maintaining Organization
Total House Organization And De-cluttering
Toy Room
Unpacking Move-Ins
Use What You Have Decorating
Vacation & Seasonal Homes
Wardrobe
Wardrobe Consulting
We Speak English
Whole House Organizing
Workshops & Presentations