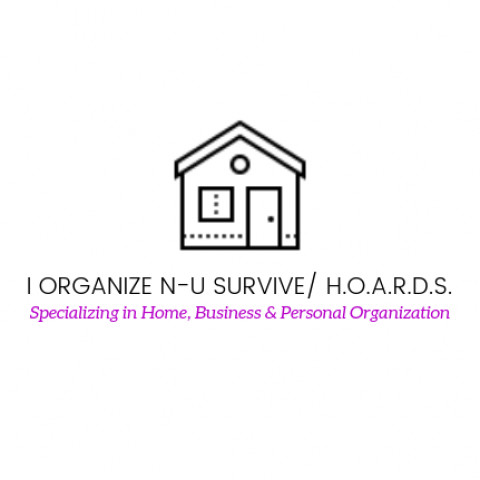 Welcome to Professional Organizing at its best! My name is Lynette E. Walton and I'm the CEO of I Organize N-U Survive/ H.O.A.R.D.S. I am very passionate about helping people from all walks of life make a permanent lifestyle change. It's truly a gift from God and I intend to share my special gift with others!
We at I Organize N-U Survive can organize anything from A-Z. This includes Event Planning (i.e. Baby Showers, Graduation Parties, Receptions, etc.), Business & Company Organization, Financial & Paper Organization, Home & Personal Organization, as well as Hoarding. We can also establish home businesses and assist with customizing filing systems, creating workflow streamlining and developing time management.
We offer a special Senior Citizens Program to help our "youngsters" purge, sell, donate, recycle & relocate items, making life stress-free. With our approach, they will re-develop a happier & healthier lifestyle by cleaning their environment and changing their life forever! We also offer a special 5% discount on all projects for Military Personnel & Veterans (must have proof of enlistment), Police Officers and Firefighters (must have proof of employment).
We proudly serve the City of Detroit and the State of Michigan but will go anywhere that God leads us. If you would like to change your life for the better, we would be happy to schedule a detailed assessment visit to start the process. Give us a call or send us an email. You can also check us out online at www.iorganizenusurvive.org.
We at I Organize N-U Survive will give you a fun experience while changing your life. It's time to take your space back, change your mind about the clutter and most importantly, live a healthier, happier and organized life!
Specialties
Accessory Organizer
ADD/ADHD Expertise
Anything Not Listed? Please Ask
Attics
Baby Boomer Downsizing
Basement Organization & Decluttering
Bathrooms
Bedrooms
Bill Paying
Bookkeeping
Budgeting
Certified Professional Organizer
Chaos Management
Check Book Balancing
Children's Rooms
Chronic Disorganization Expertise
Cleaning
Closet Organizing & Cleaning
Closet Systems
Clutter Elimination & Coaching
Coaching
Combined / Blended Households
Computer Training
Consultations For Do-It-Youself
Consulting For Any Project
Consulting For Small Business And Entrepreneurs
Coordinating Dual Residences
Corporations
Craft Rooms
Custom Closets
Custom Storage And Design
Decluttering & Reorganization
Decorate Spaces
Deculttering The Impossible
Differently-Abled
Downsizing
Email Management
Errand Services
Errands
Estate Organizing
Event Planning
Executor Assistance
Expert In Large De-cluttering Jobs And Estate Clean Outs
Expertise with OCD
Files
Filing & Storage Systems
Financial Organizing
Furniture Placement Consulting
Game & Play Rooms
Garage Organization (Cleaning, Storage Solutions)
Goal Setting
Good Will Dropoffs
Green and Eco-Friendly Organizing
Help With An Empty Nester
Hoarding Help Specialist (Cleanup, Coaching)
Hobby Rooms
Holiday Decor & Storage
holiday Decorating
Home And Office Organization
Home Makeovers
Homework Organization
Household Management Coaching
I Will Work With You.
I Work In The Whole House If Necessary.
Ideal Packing For Travel
Interior Redesign With What You Own
Inventory
Kitchens
Labeling
Large And Small Areas
Laundry Rooms
Legal Offices
Life Coaching
Listen To Clients' Needs And Concerns
Living Room
Lofts And Apartments
Medical Offices
Memorabilia Storage
Messy Bachelor Pads
Messy Houses
Move-ins & Move-outs
Moving and Packing
Mudrooms/foyers/entryways
Multi-purpose Rooms
Need A Speaker For Your Staff Meeting
New Moms And Generall Y Busy Women
Newly Married Couples Organization
Non-judgmental
Non-profit Organizations
Office Organization
Office-Home And Business
On-Going Support And Maintenance Services
One On One Personal Shopping
One Room Or The Whole House
Organizing And Decorating Using What You Already Have
Organizing Collections
Organizing Workshops
Overwhelmed
Packing & Unpacking Services
Painting
Pantries
Paperwork Organization & Management
People Feel Good In Their Homes Again!
Personal Assistant
Personal Coaching
Personal Shopping
Phone Sessions
Photo Organization
Planning
Policy And Procedure
Productivity & Time Management Coaching
Professional Labeling
Public Speaking For A Group.
Purging Closets & Drawers
Recycling
Recycling And Donating Services
Relocation
Scrapbook Organization
Senior Community
Senior Downsizing & Transitioning
Shopping
Short Term Or Long Term Help
Small Business
Small Spaces
Sorting
Space Planning
Space Saver Ideas/suggestions
Specialties: Helping Seniors
Staging For Living
Staying Organized
Student Organization
Superior Organization
Team Organizing
Teens
Tips For Maintaining Organization
Total House Organization And De-cluttering
Toy Room
Unique Organization
Unique Support And Assistance (You Deserve That)
Virtual Administrative Support
Warehouse Layout
Workshops & Presentations