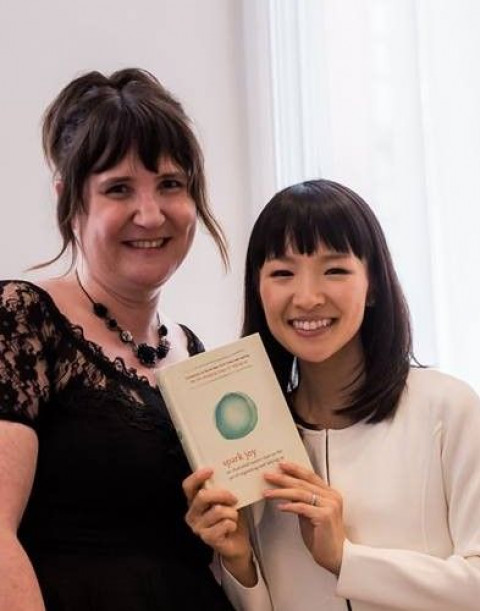 The Tidyologist is a professional home organization consultancy guided by the KonMari Method™. We specialize in whole home organization designed to help our clients achieve dramatic change that forever transforms the way they feel and function in their homes.
The next time you say, "I can't wait to get home," ask yourself if you're sure about that. Unfortunately, many people who say this come home, only to be greeted by a chaotic, frustrating and stressful home environment. The Tidyologist wants you to be able to say those words and truly mean them.
Find out how close you are to this ideal by visiting www.thetidyologist.com to download our free "How Organized Are You, Really?" quiz.
We help our clients achieve dramatic change in three phases: Envision.Simplify.Enjoy
Envision Through conversation and a series of questions, you will be guided to envision your ideal living environment and ideal lifestyle. We will capture your vision in writing and/or in a visual representation. We will use this vision throughout the phases to keep you focused on your end goal of tidying.
Simplify In this phase, we will do all the hard work you committed to when you decided to use our services. Through one on one, in-home, hands-on organizing, we will complete the familiar organizing tasks of sorting, purging and creating a home for your belongings. This phase follows these core principles of the KonMari Method™: finish discarding first, tidy by category; not by location, follow the right category order, ask yourself if it sparks joy and leave final storage until the end. Through this process you will simplify the amount of stuff you own and must deal with, your storage methods and your decision-making skills.
Enjoy Now that you have completed all the hard work you put in, it is time to enjoy the results. You will be left with only items that spark joy and will have reached or placed yourself on the path to your vision of your ideal living environment and lifestyle. Using my training and experience as a Certified Professional Organizer® and a Certified KonMari Consultant, we will set you up for success. We will refine your storage and set up systems that meet your individualized needs. This final phase will ensure that you have created a home you can continue to enjoy well after our working together is finished.
We offer In-Home & Virtual Tidying | Workshops | Speaking Engagements | Available for Worldwide Travel
I'm Kristi, the founder and owner of The Tidyologist. Should you decide to use our services, you will be working directly with me.
I have been organizing professionally since 2008. I am proud to be the only professional organizer worldwide to have earned the distinction as both a Certified Professional Organizer® and a Certified KonMari™ Consultant. The broad range of knowledge, experience and examinations required of these credentials allow me to serve my clients with confidence in both my abilities and their success.
I also continue to study and earn certifications in organizing for special populations. These include ADHD, chronic disorganization, seniors, students, families and hoarding.
After applying "traditional" organizing methods for a couple of years, I began to shift to the "nontraditional," and immediately saw positive results. When I read Marie Kondo's first book, "The Life-Changing Magic of Tidying Up," I knew I had found an effective methodology which matched all my essentials for life-altering organizing services.
You may contact me through the Find My Organizer Form, by emailing me at or by phone at . You are also welcome to visit my website www.thetidyologist.com | Instagram page www.instagram.com/thetidyologist | Facebook page www.facebook.com/thetidyologist. I look forward to assisting you with your organizing goals.
Specialties
ADD/ADHD Expertise
Attics
Baby Boomer Downsizing
Basement Organization & Decluttering
Bathrooms
Bedrooms
Certified Konmari Consultant
Children's Rooms
Chronic Disorganization Expertise
Closet Organizing & Cleaning
Clutter Elimination & Coaching
Coaching
Combined / Blended Households
Consultations For Do-It-Youself
Coordinating Dual Residences
Craft Rooms
Decluttering & Reorganization
Deculttering The Impossible
Differently-Abled
Downsizing
Email Management
Expertise with OCD
Files
Filing & Storage Systems
Garage Organization (Cleaning, Storage Solutions)
Goal Setting
Good Will Dropoffs
Hoarding Help Specialist (Cleanup, Coaching)
Holiday Decor & Storage
Home And Office Organization
Home Offices
Home Organization
Home Staging (Homes for Sale)
Homework Organization
Household Management Coaching
Inventory
Kitchens
KonMari Consultant
Laundry Rooms
Life's Transitions
Living Room
Memorabilia Storage
Messy Houses
Move-ins
Move-ins & Move-outs
Move-outs
Moving Planning & Preparation
National Association of Productivity and Organizing Professionals (NAPO) Member
Need A Speaker For Your Staff Meeting
New Moms And Generall Y Busy Women
Newly Married Couples Organization
Office Organization
One Room Or The Whole House
Organizing And Managing Your Move
Organizing Workshops
Overwhelmed
Packing & Unpacking Services
Pantries
Paperwork Organization & Management
Personal Coaching
Personal Shopping
Phone Sessions
Presentation Training
Productivity & Time Management Coaching
Public Speaking
Relocation
Residential Organizing
Residential Organizing And Downsizing
Senior Downsizing & Transitioning
Short Term Or Long Term Help
Small Business
Small Spaces
Sorting
Space Planning
Staging For Living
Staying Organized
Student Organization
Students
Teens
Tips For Maintaining Organization
Total House Organization And De-cluttering
Virtual Organizing