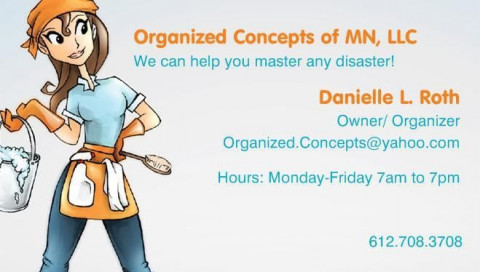 You all know me. The weirdo who, if you ever let me into your house, started cleaning it right away? Picking up your trash, moving your dishes to the sink or dishwasher (or the kitchen at the very least?!)-- what can I say? I love to clean! They always say you are supposed to do what you love and I love nothing more than getting my hands dirty by giving a good cleaning to a deserving home.
Some people thought it was rude, like I was telling them; "You live in filth!"- but alas, this was not what I was trying to communicate. From the Disney movie "Robots"- I have learned 'See a need, fill a need!' I see you have needs and I long to feel useful!
I understand that not everyone has time to clean up. But when you get off work, and pick up the kids- you want to come home and relax. Not start on chores... For too long I have seen families struggle with their daily balancing act and wondered what I could do to help...
Enter Organized Concepts of MN. I got the idea because I love nothing more than turning Chaos into Order. Everything has a place, or at least it should, and we get it there.
We offer a wide variety of options for you to choose from when dealing with a mess. If its Organization you need- filing of paperwork, turning something cluttered into something that looks good and works for every day use- well that's our specialty!
If you need cleaning; doing the dishes or the laundry, cleaning the floors, dusting the cobwebs, picking up and taking out the garbage? Well we can help you with that too, and we would be more than happy to!
If any of this makes sense, or sounds like you (or someone you know) please don't hesitate to give us a call to schedule your first free in-home consultation today! Servicing the areas of: Wright County.
Specialties
Attics
Basement Organization & Decluttering
Bathrooms
Bedrooms
Children's Rooms
Chronic Disorganization Expertise
Closet Organizing & Cleaning
Clutter Elimination & Coaching
Commercial Organization
Craft Rooms
Custom Storage And Design
Extreme Organization
Filing & Storage Systems
Garage Organization (Cleaning, Storage Solutions)
Hoarding Help Specialist (Cleanup, Coaching)
Home Offices
Home Organization
Inventory
Kitchens
Memorabilia Storage
Move-ins
Move-outs
Office Organization
Pantries
Paperwork Organization & Management
Productivity & Time Management Coaching
Public Speaking
Recycling
Residential Organization
Scrapbook Organization
Small Business
Small Spaces
Space Planning
Students
Teens