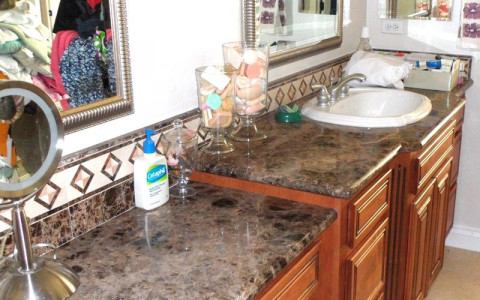 Professional Organizer to Simplify Your Life
With busy hectic schedule these days, people hardly find any time to take care of their household stuffs. They fail to even organize their own personal stuff and that's the reason why they look for professional organizing company. Professional home organizer comes as a blessing in disguise. They help people live and work in a clean and clutter-free atmosphere followed by organizing their space, time finances etc. I Love To Organize is a full- service, eco-friendly home and office organizing company, committed to provide organizing consultation & needs assessment. However, with the mushrooming of several home organizers, finding the right service provider seems really a challenging task. Here are certain things that need to be taken into consideration prior to hiring professional home organizer.
Hire a professional
It is important to hire someone who is capable, skilled and can meet up your expectations. The organizer must have an eye to understand your needs, detect the flaws in your home and can go the extra mile to ensure everything is organized as per your aesthetic needs.
Flip through the websites
These days you will find plenty of home organizers on internet. If you browse through the internet you would be able to get the contacts of multiple professional home organizers who can provide services in your city. If need be you can also take the help of Yellow pages or other Classified sites.
Proper consultation
Prior to hiring a home organizer, it is important you talk to some of the selected organizers either by person or through mail if possible. Some professional home organizers may provide you free consultation while others might charge some fees. Remember, different organizers charge different fees and this is solely based on their expertise and years of experience in the market. Now based on your budget you have to make the final choice, but remember never ever try to hire a service provider based on the fees structure.
So, whatever your organizing needs be, your professional organizer will help you get your space back in order!
When You Need a Professional Home Organizer in Lafayette
We all love to be organized every time and every place where we love to be. But sometime we can't make it depending upon busy schedule and less time to spend to do such work. So here Professional organizer comes to simplify your life.
Fed up with the clutter around your house? Planning to improve your home's space functionality? I Love to Organize is a full- service, eco-friendly home and office organizing company, committed to provide organizing consultation & needs assessment. Based in Lafayette, CA. We offer simple perceptive solutions to complex organizing issues.
Reason to be Organized:
1. Study found that an organized environment becomes more relaxing.
2. Individuals are usually calmer and happier.
3. Clutter Creates Stress.
4. As we go through life, we accumulate stuff. Some stuff we may never use again, but are emotionally attached to.
5. As time goes on, we need more and more room to store, file, and save our stuff.
6. Less Is Better. Keep the special items and eliminate the un-necessary clutter from your life.
I Love to Organize – A Professional Home and Commercial Organizer in Lafayette
At I Love to Organize, we help our clients in restoring & simplifying their lives by driving away the clutter and creating efficiency. We work with residential clients to eliminate clutter while on the other hand, we work with the commercial clients to enhance the productivity and create better balance.
Our solutions are customized as per our client's needs and guide clients through every step of the organizing process their lives remain more organized. We have organized very diverse spaces ranging from closet to executive offices and beyond.
I Love to Organize - Solutions and Services for Home and Commercial
I Love to Organize is a full- service, Professional home and office organizing company, committed to provide organizing consultation or needs assessment. We take pride in having a large number of specialties. Our services include Decluttering, paper management, closet organizing, storage solutions, junk removal and beyond.
Home Organization in Lafayette
Home Organizing in Lafayette
Home Organizer in Lafayette
Home Decluttering in Lafayette
Office Organizing in Lafayette
Office Organizer in Lafayette
Office Decluttering in Lafayette
Declutter Your Home in Lafayette
Bedroom Decluttering in Lafayette
Professional Organizing Service in Lafayette
Home Decluttering Services in Lafayette
Organizing in Lafayette
Closet Organizing in Lafayette
Professional Organizer in Lafayette
Garage Decluttering in Lafayette
Clutter-Free Homes in Lafayette
Housekeeping in Lafayette
Professional Organizer in Lafayette:
Founded by Janet Webb, the company has made its presence felt as one of the fastest growing organizing service provider and a successful name in the organizing industry. We boast of having a premier team of full-service professional organizers, providing hands-on organizing services. With long years of experience in this domain, Janet maintains the highest standard in customer satisfaction and strives hard in helping individuals create better living spaces. Janet Webb is passionate about helping people in simplifying and enriching their lives.
Testimonials of a Successful Organizing Client for I Love to Organize
I am somebody who tries, and tries and tries and can't seem to get a handle on my paper work. Not only that, I have saved so much stuff over the years that all of that stuff was weighing me down. The pain of trying to do everything was just too hard. I found Janet. Janet is amazing and was very encouraging with my challenges. She is helping get through the mounds of paper and helping me let go of old stuff that I don't need. She is thorough and she loves to organize. She helped me and I can't say enough about how kind she is while doing the work.
Christine – San Francisco, May 2011
Business Details:
I Love To Organize
3286 Vals Ln, 94549, CA, Lafayette, USA
5 years of business
I Love to Organize Special Offers
1 Free Consultation!
Method of Payments
CHECK & CASH
Specialties
ADD/ADHD Expertise
Baby Boomer Downsizing
Basement Organization & Decluttering
Bathrooms
Bedrooms
Children's Rooms
Chronic Disorganization Expertise
Closet Organizing & Cleaning
Clutter Elimination & Coaching
Consulting Services
Corporations
Craft Rooms
Custom Closet Design
Custom Storage And Design
Decluttering & Reorganization
Email Management
Estate Organizing
Event Planning
Filing & Storage Systems
Furniture Placement Consulting
Game & Play Rooms
Garage Organization (Cleaning, Storage Solutions)
Green and Eco-Friendly Organizing
Home And Office Organization
Home Offices
Home Organization
Household Management Coaching
Kitchens
Large And Small Areas
Laundry Rooms
Listen To Clients' Needs And Concerns
Memorabilia Storage
Moving and Packing
Moving Planning & Preparation
Office Organization
One Room Or The Whole House
Organizing And Decorating Consultant
Organizing Workshops
Packing & Unpacking Services
Pantries
Paperwork Organization & Management
Personal Assistant
Personal Coaching
Personal Shopping
Phone Sessions
Productivity & Time Management Coaching
Recycling
Residential Organizing
Short Term Or Long Term Help
Small Business
Total House Organization And De-cluttering
Virtual Organizing
Wardrobe Consulting