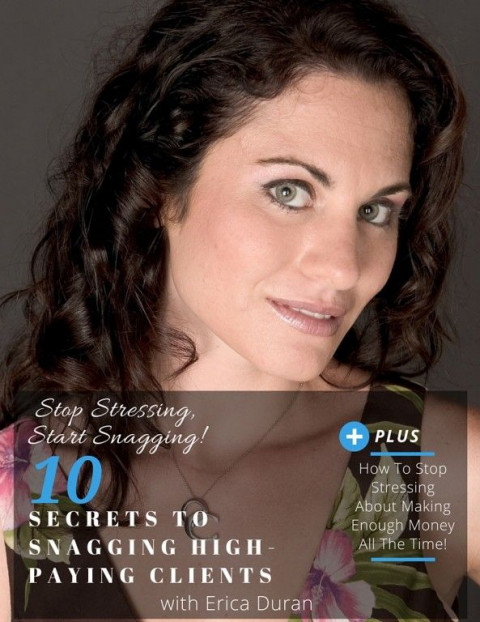 Erica Duran is a Freedom Business Model Mentor & Coach, Digital Marketing Expert, Luxury Lifestyle Designer, and Minimalist.
She works with service-based entrepreneurs (like Professional Organizers, Coaches, & Consultants) who are ready to make money doing work they love from anywhere.
Erica believes that the one thing this world doesn't need is more burnt out, overwhelmed women entrepreneurs who are baffled by technology & stressed over their never-ending to-do lists.
She doesn't believe in formulas or blueprints and instead works with each client to bring out their unique brand essence which makes their competition irrelevant & helps them to build a solid online platform.
She also supports her clients in creating the systems and structures so they can often enjoy the freedom of a 3-day work week & consistent income of $5K to $20K+ per month.
For Erica, freedom meant selling her home & all her belongings except for a MacBook Air, iPhone, one suitcase of clothes & her dogs to take off on a life of traveling on long-term "work-cations" working virtually from 5-star resorts who sponsor her radio podcast & web TV show.
American Express Small Business Open Forum has dubbed her as "The Productivity Expert for Entrepreneurs" & she has been awarded "The Top 1% of all Viewed Profiles" on LinkedIn & one of the "Top 100 SEO Experts" to Follow on Twitter.
Erica has over 200 published articles & she has appeared as an expert on Entrepreneur On Fire, So Money, AMEX Small Business Open Forum, Franklin-Covey, LifeHacker, Under 30 CEO, Ladies Home Journal & more.
Ready to stop settling?
Is it your time to claim the expert support and accountability to create your own Freedom Based Business doing work you love from anywhere?
Request your complimentary Aloha Strategy Session Today by clicking here: EricaDuran.co/aloha
P.S. Don't forget to subscribe to Erica's weekly email updates & get her FREE guide "10 Secrets for Snagging High-Paying Clients" by clicking here: EricaDuran.co/10Secrets
P.P.S. Ready to make the power of Google's FREE organic search work FOR you? Check out Erica's latest program Googlebait.com and while you are there – don't forget to grab your FREE 30 Point Game Changing SEO Checklist!
Never Settle!
Mahalo,
Specialties
6-figure Coach
6-figure Organizer
Automation
Business Coach
Business Coaching
Business Planning
Clutter Elimination & Coaching
Coaching
Coaching Business
Computer Training
Consultations For Do-It-Youself
Consulting For Small Business And Entrepreneurs
Consulting Services
Corporations
CPO
Downsizing
Email Management
Entrepreneur
Entrepreneur Coach
Entrepreneur Coaching
Entrepreneurship
Franklin-Covey Certified
Freedom Based Lifestyle Design
Freedom Based Luxury Lifestyle Designer
Goal Setting
Home Offices
Life Coaching
Life's Transitions
Lifestyle Design
Lifestyle Designer
Listen To Clients' Needs And Concerns
Luxury
Luxury Lifestyle
Marketing Plans
National Association of Productivity and Organizing Professionals (NAPO) Member
New Organizer Coaching
Office Organization
Office-Home And Business
On-Going Support And Maintenance Services
Online Coach
Organizing Workshops
Overwhelmed
Paper Management
Paperwork Organization & Management
Personal Coaching
Phone Sessions
Presentation Training
Productivity & Time Management Coaching
Public Speaking
Residential Organizing And Downsizing
Sales And Marketing Consultant
Small Business
Systematizing
Tips For Maintaining Organization
Virtual Organizing
Website Design
Work From Anywhere