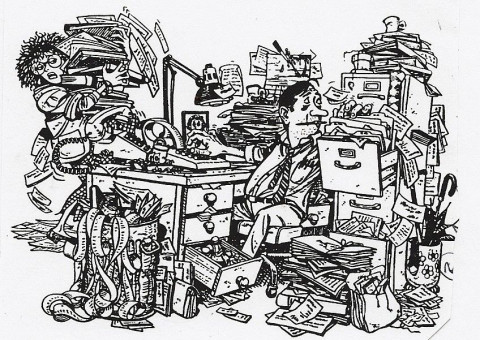 Have you lost control? Is your home, your office, your files, drawers, and storage areas a mess? Can't get one more article of clothing in your closet or file in the file cabinet? Can't find anything? Are you paralyzed by your possessions or are you just tired of the excess accumulated "stuff"? Do you want to downsize? Are you behind on filing your income taxes? Are you embarrassed by the way your home or office looks and no longer even invite people over?
Do you rent a storage unit(s) that you have been paying for for years and years and hardly remember what is in it? Maybe you could eliminate some of the stuff and get a smaller unit or not have one! How much cash could you save?
Are you constantly saying "One of these days when I've got the time I'm going to ..........
Hi, there my name is Martella and over 25 years ago I founded SOS Organizing Services In the Los Angeles area to help individuals and businesses get a grip on their life and the chaos surrounding them. Since that time we have assisted over 1000 clients with their businesses, warehouses, homes, one-room offices, storage areas, garages, or ................... whatever they need organized -- no job is too big or too small................. We are more than just "organizers" we are the zen masters of your space, your things, your information, and your treasures .....
**ORGANIZE TO OPTIMIZE** tm
Our system is very simple -- we merge, purge and organize what's left and during the process, you will learn how to maintain the harmony that is being created.
People are often "possessed" by their possessions and simply do not know how or where to begin. Hiring a Professional organizer to help you, dramatically increases your success to get the job done and see the light at the end of the tunnel, to finally be able to get your car in the garage again, open the closet without contents falling out, find what you need in your desk.
From our 3-hour basic consultation to long-range hands-on support SOS Organizing Services is capable of handling almost any organizing challenge:
* All areas of your home or office -- especially that dumping ground also known as a garage.
* Sharing simple time-saving tips to maintain your new uncluttered office or home.
* Initial set-up of workspace, office, and basic accounting systems.
* We also offer bookkeeping and bill paying services using QuickBooks or Quicken
* Compile all data and information for submission to your tax preparer.
* Organize and update file systems
* Downsizing and relocation assistance
* Staging your home for sale
* Probate and estate organization and liquidation
* Data and information research projects
In 2021 we relocated to the South Whidbey Island, Washington area (originally from the County of Los Angeles) and are serving the local and surrounding area of South Whidbey Island up to a 30-minute drive - basically Clinton to Coupeville..
I will consider traveling outside these limits however it will incur additional fees for travel time including ferry fees (if involved).
If you are outside my travel area - consider "Teleorganizing". a weekly coaching service to answer questions and keep you on track and motivated. This coaching services also includes some emails and texting.
Thanks for stopping by, we appreciate you taking the time to read our listing. Please call or text today for a FREE CONSULTATION or email sosos4you at Gmail dot com
FAQ ---
How to choose and ultimately hire a Professional Organizer..............................
WHAT IS A PROFESSIONAL ORGANIZER?
A Professional Organizer is a trusted mentor, a coach who can help you identify and uncover what keeps you from following through with your intentions. It is usually a one-on-one relationship that provides a supportive and non-judgmental space to help tackle the clutter and "stuff" in your life. A Professional Organizer helps you to strategize and acquire the tools you need to bring harmony to your chaotic environment. Every person is different, each has their own set of established habits that keep them in a rut, and they have a difficult time acquiring new "habits" to maintain harmony. The organizing process consists of steps to help you identify and re-frame your thoughts and attitudes. It can also help you release negative habits and take action to achieve the harmony that is so important to a more stress-free life..
WHAT TYPE OF PEOPLE HIRE PROFESSIONAL ORGANIZERS?
People from all walks of life hire Professional Organizers. Accumulating "stuff", clutter, piles of paperwork, overflowing offices, closets, and garages can just as often be the result of a "too busy" life as it is the result of people simply not having systems in place or being procrastinators. Merging households, having children, and both partners/parents working "never enough time in the day" can result in chaos when there are no "systems in place". Working with a Professional Organizer/Life Coach is not limited to any specific "type of person", but is best for those who want to take charge of their life.
People that are sick and tired of the clutter and the chaos and are now committed to having a more harmonious clutter-free life. They have finally woken up and realized how much time and money they are wasting every single day when they cannot find what they are looking for. They are now willing to take the steps needed to have a less chaotic life -- they have reached their limit.
Commitment, dedication, and follow-through are the foundation of an organized environment. It can be done in baby steps or leaps and bounds --- however, keeping the momentum going until the job is done is the key.