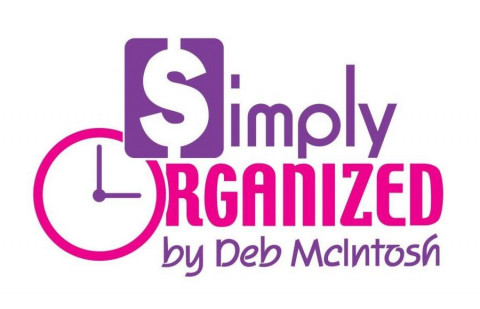 Hello! I am Deb McIntosh. A Seasoned Productivity Expert and Professional Organizer. I would love to help you get Simply Organized, clear out the clutter and find a home for everything . I have been in business for over 25 years. Proudly established in 1997. Choosing Simply Organized doesn't cost it pays. You may have seen me organizing it all on your local news stations showing you how to save time and money.
I SPECIALIZE in Entire Home Organization and ALL that Paperwork. I would love to help you declutter your home and modify your lifestyle.
In that process I will teach you new skills.
I provide hands-on professional organizing services to individuals and families to organize the entire home, room by room including paper management. Learn to live clutter free and be more efficient. I will guide you.
I will patiently work side by side with you or work independently for you to get all your projects done. We will work at a pace that fits best for you. The process will blend with your lifestyle. I work with people of ANY age and gladly embrace all the fur balls we may encounter along the way.
TOGETHER, we set up an efficient filing system. Within that time I will teach you how to manage the flow of papers day to day. I will advise you how long to keep documents and ways to go paperless.
If it's your home filing system or you own your own business. I can help.
As your files are completed you will start to see how it all connects into a color coded, categorized filing system that can be easily maintained year after year by just about anyone with a little effort.
First, we have a telephone consultation so I can answer your questions, we exchange information and get to know one another.
Next, we schedule your initial consultation and get the ball rolling.
I will give you lots of organizational tips during that appointment. I can estimate the cost if you would like me to return and get it done.
Next the organizing process takes place over a decided timeline (long or short). Systems are set into place to create simplicity and make sure everything is user friendly. It needs to compliment your lifestyle. By continuing to repeat the process with me through each room it teaches you and trains your brain. Kind of like a little coaching to enstill organizational skills within you. Like my Mom did for me. What we practice we usually get better at. As human beings it's natural to learn new skills and evolve. Eventually your space changes or something within it needs to.
Deb McIntosh is a very thorough, detail oriented functional Professional Organizer and Productivity Expert. We will leave no stone left unturned. I am enthusiastic and love what I do. I enjoy teaching what I know and motivating and encouraging you to do the same. If you have kids they will learn from you and the process too. Making the process fun helps everyone to maintain things better later. Plus using cool new functional organizing products helps too.
My special package rate includes many value added services. I take care of the details for you. My services will pay you back in no time with the time and money you will save. Efficiency really does matter. I will teach you how.
I have thoroughly enjoyed producing and appearing in numerous television segments focusing on the benefits of being Simply Organized. You may have seen me as a regular on Channel 3 every month or possibly during one of my live before and after segments on 12 morning news show at the crack of dawn.
Please call me now for your FREE telephone consultation and to get the ball rolling. I look forward to hearing about your project and goals. Thank you for reading my profile today. or email
Organize - Simplify - Be Happy
Specialties
24 Years in Business
ADD/ADHD Expertise
All Inclusive Service From a to Z. Thank You for Choosing Simply Organized.
Baby Boomer Downsizing
Basement Organization & Decluttering
Bathrooms
Children's Rooms
Chronic Disorganization Expertise
Closet Organizing & Cleaning
Clutter Elimination & Coaching
Combined / Blended Households
Consignment
Consultations
Craft Rooms
Custom Storage And Design
Decluttering & Reorganization
Downsizing
Entire Home
Entire Home Organization
Entire Home Organization and Paper Management
Entire Home Organization Room By Room
Estate And Garage Sales
Estate Organizing
Expert In Large De-cluttering Jobs And Estate Clean Outs
Expertise with OCD
File System Set-Up
Filing & Storage Systems
Garage Organization (Cleaning, Storage Solutions)
Good Will Dropoffs
Haul Away Services Included
Hoarding Help Specialist (Cleanup, Coaching)
Holiday Decor & Storage
Home And Office Organization
Home Makeovers
Home Offices
Home Organization
Home Staging (Homes for Sale)
I Work In The Whole House If Necessary.
Kitchens
Labeling
Large And Small Areas
Laundry Rooms
Living Room
Master At Organizing Anything.
Memorabilia Storage
Move-outs
Moving and Packing
Moving Assistance
Moving Jobs
My Specialty Is Entire Homes
Need A Speaker For Your Staff Meeting
No Job Too Big Or Too Small!
Non-judgmental
One Room Or The Whole House
Organizing Workshops
Packing & Unpacking Services
Pantries
Paper Management
Paper, Bills, Records
Paperwork Organization & Management
Personal Shopping
Photo Organizing
Productivity & Time Management Coaching
Professional Labeling
Professional Organizer and Productivity Expert
Public Speaking
Purge Paper Piles
Reasonable Project Rates
Relocation
Relocation Downsizing
Residential Organizing
Residential Organizing And Downsizing
Seasoned Organizer And Productivity Expert
Senior Downsizing & Transitioning
Shopping
Shredding Services Included
Small Business
Space Planning
Students
Teaching
Teaching What I Know, All Inclusive Services. I Get the Job Done From a to Z
Teens
Tips For Maintaining Organization
Total House Organization And De-cluttering
Tv Spokesperson
We Speak English
Whole House Organizing