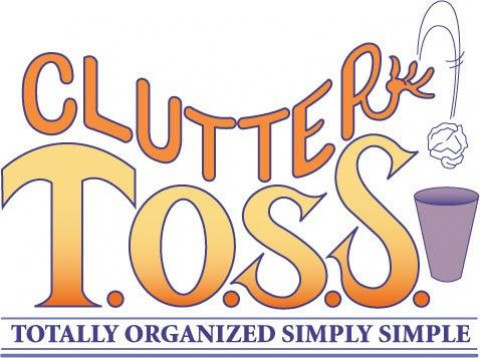 Do you spend hours looking for and not finding it? Do you feel overwhelmed with clutter? I can help get your clutter back under control. Let us Clutter TOSS your place so you can get back to your life.
Note: We don't always get all your contact information, so please call April Todd at: or Email: FB: www.facebook.com/ClutterTOSS Thank you!
Our mission is to help people who desire to be organized and who need creative ideas and/or assistance to organize their lives, finances, homes or small business in order to improve their personal productivity and quality of life. I do not take before and after photos as I value my client's privacy to the utmost. I let my clients speak for themselves via testimonies.
About Clutter T.O.S.S. - Our Company has been in business since 2009 and helping people most of my life. Brigitte (founder) helped people transform their lives, homes and businesses into the vision they wish to achieve. Now, Brigitte (now retired) has left the business in the capable hands on her Son and Daughter-In-Law, Remington and April.
Just a few Client Testimonies
Brigitte from Clutter T.O.S.S., Thank you for working me with. You have a go with the flow, but dump, reassign items, donate. This clearance season I've not been tempted to bring anything else into the house. Loving the practical summer closet. I know I don't need any more summer clothes!!! Nor any new handbags!!! I found a whole other box!!! Three full shelves....but, I know what I have and that's the biggest help!!! Penny Zielinski
Amazing transformation! Clutter T.O.S.S. helped me transform my home from full of clutter and "stuff" to a house that is clean and only has what I love in it. They work harder than anyone I know and was able to help me stay on task sorting. They also were understanding when it came to the emotionally charged items and were able to help me make decisions that were best for me. They had many resources available to help as well. Tarla Gernert
They pull everything out of each cabinet and CLEAN the inside, while they had me decide in each cabinet what to keep and throw out (like expired medicine!). They have boxes for you to put in things in for giving away or putting in a garage sale. We also moved some things to a basement shelf that are more seasonal and don't need to be in my kitchen cabinets all the time. They helped me put things in little containers and back up in my cabinet, so things are more easily grouped like cold medicines, etc. My spice cabinet was hilarious. I had a few of the same spices that I didn't even know I had. I combined and threw out some really old ones, and put them in little containers that make them easier to store and grab. We moved things to cabinets closer to the place in the kitchen where they need to be used. Most of the containers we used were little baskets or Rubbermaid things I already had and we just made use of them. They do not push you to buy products. They are fun and friendly and so helpful and has excellent ideas. I would not have thought of half the things we did on my own. We have lived here 19 years, and my cabinets have never been this organized - not even when we first moved in. I feel like my kitchen just lost 15 pounds in one day! Brigitte from Clutter T.O.S.S. is perfect for her job, and she does it so well! Robin Loughlin
What a great job Clutter T.O.S.S. did ! ( Home Organizing) I highly recommend them for house organizing and "clutter tossing". Brigitte is a real professional who thinks about the big picture. She not only organized my house, she rearranged my furniture in a way I never thought of. I have lived here for 18 years but never thought of how she did it. It was a pleasure now just sit in the living room and see how efficient everything looks. My house was a royal mess so she has to come back the next day. Brigitte came back the next day equipped with organizing tools, small containers to classify all the scattered tools, pills and again classify these containers and label them. In addition Brigitte thinks of her clients and keeping their privacy as she doesn't post before/ after photos of homes. Thank you Brigitte, you really made a difference. James J. from Yelp website
I am waiting to help YOU with your organizing needs and concerns...don't delay - contact me TODAY!
Specialties
Artist Studio Organization
Attics
Baby Boomer Downsizing
Basement Organization & Decluttering
Bathrooms
Bedrooms
Children's Rooms
Closet Organizing & Cleaning
Clutter Elimination & Coaching
Combined / Blended Households
Consulting Services
Craft Rooms
Decluttering & Reorganization
Downsizing
Errands
Estate Organizing
Event Planning
Executor Assistance
Files
Filing & Storage Systems
Financial Organizing
Fresh Start Kitchen
Furniture Placement Consulting
Game & Play Rooms
Garage Organization
Garage Organization (Cleaning, Storage Solutions)
Good Will Dropoffs
Help With An Empty Nester
Holiday Decor & Storage
Home And Office Organization
Home Offices
Home Organization
Home Staging (Homes for Sale)
Household Management Coaching
I Work In The Whole House If Necessary.
Inventory
Jump Start Laundry
Kitchens
Labeling
Large And Small Areas
Laundry Rooms
Life's Transitions
Listen To Clients' Needs And Concerns
Living Areas
Living Room
Living Room Organized
Lofts And Apartments
Memorabilia Storage
Messy Bachelor Pads
Messy Houses
Move-ins
Move-outs
Moving Organization
Moving Planning & Preparation
Moving Support
Mudrooms/foyers/entryways
Multi-purpose Rooms
New Moms And Generall Y Busy Women
Newly Married Couples Organization
Non-judgmental
Non-profit Organizations
Office
Office Organization
Office-Home And Business
Offices
On-Going Support And Maintenance Services
One Room Or The Whole House
Organizing And Decorating Consultant
Organizing And Decorating Using What You Already Have
Organizing And Managing Your Move
Organizing Collections
Organizing Workshops
Outbuilding Organization (Barns, Sheds)
Overwhelmed
Pantries
Paper Management
Paperwork Organization & Management
People Feel Good In Their Homes Again!
Personal Assistant
Personalized Organizational Solutions
Personalized Organizing Solutions
Productivity & Time Management Coaching
Professional Labeling
Purging Closets & Drawers
Recycling
Recycling And Donating Services
Relocation Downsizing
Residential Organizing
Residential Organizing And Downsizing
Senior Downsizing & Transitioning
Short Term Or Long Term Help
Small Business
Small Spaces
Sorting
Space Clearing
Space Repurposing
Space Saver Ideas/suggestions
Specialties: Helping Seniors
Staging For Living
Staging To SELL
Staying Organized
Student Organization
Students
Teens
Tips For Maintaining Organization
Total House Organization And De-cluttering
Virtual Administrative Support
Whole House Organizing