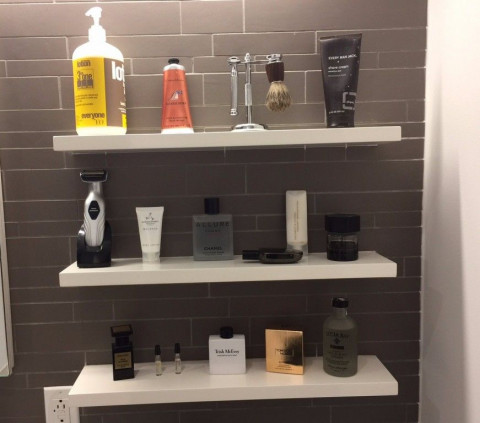 Hello!
I am an independent professional home organizer.
I've been organizing for over 10 years now & organizing comes natural to me.
We each have our own skills & talents & organizing is one of mine!
I breathe organizing!
When I see mess & clutter I want to fix it!
I stay up to 8 hours for the day for a reasonable flat rate. (below).
The best part is you can continue your busy schedule in & out of the home as needed.
If you want to get rid of things, to weed things out, we can work together at times,
going over my grouped categorized piles with me before I put back in a more organized fashion,
so I'm only putting back things you want to keep!
You can choose a combination to donate/recycle/sell/throw out the rest.
I specialize in kitchens, bedrooms, closets, pantries, bathrooms, kids rooms, play-toy rooms, junk drawers, jewelry
& other cluttered areas you live & go in, each day in the house, that you want improvement in.
I deal with clothes, shoes, hygiene products, kitchen ware, toys, food, you name it!
I get very detailed into things.
Basically anything but paper I am interested in.
I also help people pack & unpack, for their moves- they are moving all of the time!
Packing & Unpacking services as well!
Same prices!
I arrive in the morning between 10 am & 10:30 am & work myself through-out the day.
I throw nothing away of your stuff without your permission!
I do not judge! Afterall, if I did, I'd be out of a job! ;)
I work both weekdays & weekends for you.
Holidays too.
I service Manhattan, Long Island, Queens & most of Brooklyn.
Let me know exactly where you live! Will consider parts of NJ too.
Update: I have recently expanded to parts of Westchester County too!
I also have expanded to parts of Connecticut too!
I have done this because of referrals I have gottten & stay loyal to my clients.
All for the right situation/stable reliable person I am open to hear you out.
Let me know exactly where you are located & we'll take it from there!
Don't get overwhelmed with your things! Last minute OK!
Change your life today! It's starts in the home!
Hold a day with me! "The best money spent is in the home where you live!"
Email me directly so you can assure I can personally contact you back!
$165 cash of up to 8 hours for the day, flat rate, locally. (Manhattan, Brooklyn & city Queens)
$175 cash of up to 8 hours for the day, flat rate, for Long Island/Queens border/Jersey City areas.
$185 cash of up to 8 hours for the day, flat rate, for further out cities/states. (NJ, Westchester County & Connecticut)
So get organized today!
So you can start your day!
& find your way!
& enjoy your day!
:)
Sherry, the Organizer
Specialties
Bathrooms
Bedrooms
Children's Rooms
Chronic Disorganization Expertise
Closet Organizing & Cleaning
Clutter Elimination & Coaching
Combined / Blended Households
Craft Rooms
Decluttering & Reorganization
Downsizing
Game & Play Rooms
Help With An Empty Nester
Hoarding Help Specialist (Cleanup, Coaching)
Home And Office Organization
Home Organization
Home Staging (Homes for Sale)
Kitchens
Large And Small Areas
Life's Transitions
Listen To Clients' Needs And Concerns
Living Room
Memorabilia Storage
Move-ins
Move-ins & Move-outs
Move-outs
Moving and Packing
Moving Planning & Preparation
New Moms And Generall Y Busy Women
One Room Or The Whole House
Packing & Unpacking Services
Pantries
Purging Closets & Drawers
Recycling
Residential Organizing
Residential Organizing And Downsizing
Senior Downsizing & Transitioning
Small Spaces
Sorting
Space Planning
Tips For Maintaining Organization
Total House Organization And De-cluttering