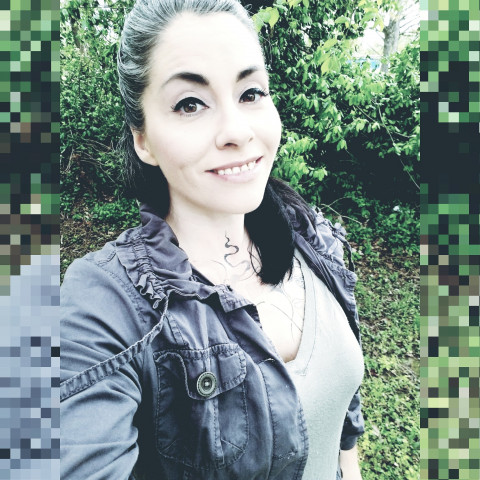 Hello. I'm Kat, the Owner and Operator Knock The Clutter Out LLC and I've made it my life mission to KNOCK YOUR CLUTTER OUT for good! Actually, I'm just kidding about that. Although I'm known for my tenacity and being able to successfully move out large amounts of clutter in an entire home fast, "knocking your clutter out" isn't what I'm all about.
MY GOALS-
My main goal is to help people achieve freedom by moving onto bigger and better things for a person's life. I believe clutter and disarray creates a temporary setback for all people to reach their true potential. Clutter creates chaos. And it's the chaos that needs to be removed and replaced with peace and functionality!
WHO I PREFER TO WORK WITH-
Anyone READY for a change!
I've worked with numerous clients, all having unique needs. I pride myself in not necessarily marketing myself to "one type" of client. Some examples are-
Seniors downsizing and or needing organizing to make ageing in the home easier
People suffering from various mental, physical or emotional ailments
Families who've inherited large amounts of items from family passing
Grief stricken clients ready to declutter or address the items left behind
Busy professionals who don't have the time to implement organizing systems
Stay at home mothers overwhelmed by clutter and mess
Bachelors ready to impress their friends and family with their new organized space
Former hoarders and or shopping addicts who are ready to live in a home with less stuff
Crafters who's love of crafting created more of a mess than creating anything creative, so spaces needed better organizing solutions
Packing and unpacking to help a busy family get their home in order
The list of the types of clients I've assisted is endless. If you would like to see what they've said about my work ethics, please look me up on FB at KOTHECLUTTER or check out my reviews under Knock The Clutter Out LLC.
YOUR OPTIONS-
I work in a tiered system. Meaning you can take your project as far as you would like to and as deep as your budget allows-
TIER 1- Decluttering only. One room to the whole home. (No systems in place. Just room to room decluttering. No additional products to be purchased)
TIER 2- Decluttering. Using existing products to store items more functionally.
TIER 3- Decluttering. Purchasing new organizing products to fit the space and store items more functionally.
TIER 4- Decluttering. Purchasing new organizing products including large organizing items. IE Shelves. New furniture pieces etc.
TIER 5- Decluttering. Purchasing new organizing products. Purchasing large organizing items. Custom design and installation. IE New closet, new pantry or other custom builds.
ADDITIONAL SERVICES- Painting. Garage track installation. One time deep cleaning
DONATION DROP OFF- All donations go to a non-profit organization who give vouchers to the less fortunate. (unless you specify otherwise)
WHAT I'M LIKE-
I'm a very down to earth and non-judgmental person both professionally and in my personal life. In the summer I ride motorcycles and in the winter I ski. So for me. I am all about living life to the fullest degree, and I'm a bit of an adrenaline junkie. (Life is about experiences and not things)
Everything I know with regard to the professional organizing industry came from either having experienced it myself or learning the hard way. (Hoarding grandmother. Former shopping addiction. Suffered from depression and grief and so on)
As a PO for 3 years, I've immersed myself in the industry full time. Making it my top priority to be the best, and to provide the best service, and this includes having the right resources and solutions to SOLVE PROBLEMS in every aspect of a home's needs.
You will find that I do NOT force minimalism on anyone who chooses to work with me. Instead, I meet each person where they're at in their journey. The goal is to live and breathe easier. For some, this means living with very little, and for others, it means making room for 200 pairs of shoes. (I have created a shoe room before lol).
In closing this, I do hope you will choose me to assist you within your environment. You can't even begin to IMAGINE what transformation is in store for you! (Until you hire me of course!)
Specialties
Attics
Baby Boomer Downsizing
Basement Organization & Decluttering
Bathrooms
Bedrooms
Children's Rooms
Cleaning
Closet Organizing & Cleaning
Clutter Elimination & Coaching
Combined / Blended Households
Coordinating Dual Residences
Craft Rooms
Custom Storage And Design
Decluttering & Reorganization
Downsizing
Filing & Storage Systems
Furniture Placement Consulting
Game & Play Rooms
Garage Organization (Cleaning, Storage Solutions)
Hoarding Help Specialist (Cleanup, Coaching)
Holiday Decor & Storage
Home And Office Organization
Home Offices
Home Organization
Home Staging (Homes for Sale)
Kitchens
Large And Small Areas
Laundry Rooms
Listen To Clients' Needs And Concerns
Living Room
Messy Houses
Move-ins
Move-outs
Moving and Packing
Moving Planning & Preparation
Office Organization
On-Going Support And Maintenance Services
One Room Or The Whole House
Organizing And Decorating Using What You Already Have
Packing & Unpacking Services
Painting
Pantries
Paperwork Organization & Management
Personal Assistant
Personal Shopping
Phone Sessions
Professional Labeling
Purging Closets & Drawers
Recycling
Relocation
Residential Organizing
Residential Organizing And Downsizing
Senior Downsizing & Transitioning
Short Term Or Long Term Help
Small Business
Small Spaces
Space Planning
Space Repurposing
Staging For Living
Students
Teens
Tips For Maintaining Organization
Total House Organization And De-cluttering
Virtual Organizing
Yard Work