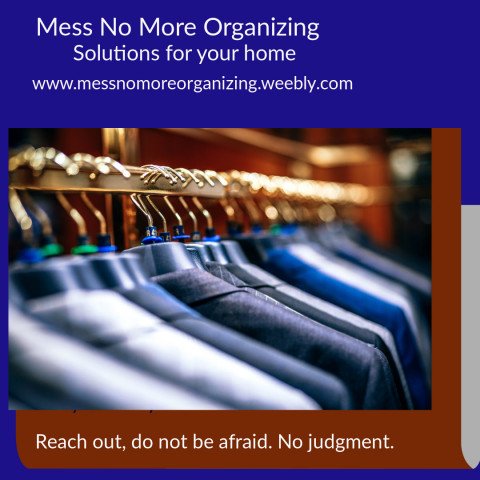 Do you spend hours browsing and admiring on Pinterest, wishing you could have what you see? WELL you can!
Are you struggling to get to work on time on a daily basis, because you can't locate what you need?
Are you coming home to a cluttered place every night?
Are you scrambling to clean up the place in a hurry because you are having unexpected guests/date?
Is your closet a hot mess? and your clothes all over the place?
Does it take you forever to clean?
If you answered YES to any of these questions, I can HELP you.
We can change things, and put a smile on your face every time you walk through your door. NO more being late, or rushing out in the morning, NO more having to run out to purchase something you know you have but can't locate. Walk confidently around your home, and just know where EVERYTHING is. Rediscover the pleasure of inviting friends over to your place and having them complimenting you over your NEW space.
You will experience a host of positive feelings, renewed energy, a feeling of accomplishment, a stress free environment, and so much more.
You will have a relaxing place to come back to at night, and if you happen to bring a date you will never have to worry about what is behind that door. Finding your clothes and getting out the door will be a breeze. Doesn't this sound great?
NOTE: I have resumed in person services as of July 2020. I will have a mask if required and "indoor only" shoes that I sanitize every night.
Hello my name is Vicky and I am a Professional Organizer based in NYC.
I love organizing, and my goal is for you to experience and enjoy the benefits of it all.
There is no one right or perfect system for everyone, organizing needs to be flexible and adapt to your personality, purpose, and way of living. The same goes for the reason behind your need for help, there are multiples: lack of time, lack of skill, personality type, other members of the family, current system not working for you.
Some might need a more curated, eye pleasing type of organizing because that is what works for them, and pleases their personality, that same system might be too complicated to maintain for another individual who is more creative and in need of more function then aesthetics.
Again there is NO right or wrong way, just YOUR way.
We will make it work for YOU.
Don't be afraid to reach out, and share your concerns or needs, however bad you think it is, I have probably seen worse.
I am not here to judge or tell you to discard all your belongings, I will listen to you, your input is invaluable in understanding what you need. All I am interested in is to show you what organizing can do for you. It will change your life.
This is not just work, it is my passion and it has been with me since birth. I will put that passion to work to make sure your place is a relaxing, peaceful and organized one for you to come home to everyday. You will never want to leave it :-)
I service the areas of Brooklyn, Manhattan, Queens and Bronx.
Jersey City, Hoboken and other parts of NJ within walking distance of Mass Transportation.
At the moment I only work with individuals, no businesses.
I can work at your pace, both weekdays and weekends
My prices are very affordable, please contact me to inquire.
You can reach me at the number posted far below, via the "Contact me" tab at my website at www.messnomoreorganizing.weebly.com
or via FB message at www.facebook.com/messnomoreorganizing
NOTE: Pictures are all of my work, I don't have a photographer taking them, they are just real photos taken by me.
Services I offer include:
DECLUTTERING
ORGANIZING
MAINTENANCE SESSIONS
MOVING ASSISTANCE (packing/unpacking)
This is not the same unpacking services movers provide, I have seen it, what they do is just unpack and store anywhere. I unpack and organize your things where they belong, so that your place is set up and functional. Boxes break down and other related tasks are no issue either.
HOLIDAY ASSISTANCE
(help with home/tree decoration, gift wrapping, family party/dinner preparation (not food related) pre and post event. I will help you clean up and put everything away tidy and organized.)
Post Holidays I will assist you in returning your home to a pre Holiday status.
GUEST ROOM SET UP
(if your guest room is used for storage we will return it to it's original state)
GROCERY SHOPPING AND PANTRY SET UP
(if you are having trouble with targeted shopping, i.e. buying only what you need, I will assist you throughout the process from surveying pantry, making list to putting everything away correctly)
HOME SALE PREP/LIGHT STAGING
(I will assist you with organizing/decluttering your home and setting up so that it will be easier to sell)
NOTE: I am not a Home Stager
Specialties
Assistance With Organized Shopping and Pantry Set Up
Baby Boomer Downsizing
Basement Organization & Decluttering
Bathrooms
Bedrooms
Bilingual English
Children's Rooms
Closet Organizing & Cleaning
Decluttering & Reorganization
Downsizing
Garage Organization (Cleaning, Storage Solutions)
Gift Wrapping
Holiday Decor & Storage
Holiday Interior Decorating/tree Set Up
Home Offices
Home Organization
Italian And A Little German Although Not So Fluent Anymore.
Kitchens
Large And Small Areas
Laundry Rooms
Living Room
Move-ins
Move-outs
One Room Or The Whole House
Packing & Unpacking Services
Pantries
Paperwork Organization & Management
Post Holiday Take Down/organization
Pre Holiday Organizing
Pre Holidays Guest Room Organization and Set Up
Relocation
Residential Organizing
Residential Organizing And Downsizing
Small Spaces
Staging For Living
Students
Teens
Total House Organization And De-cluttering
Virtual Organizing