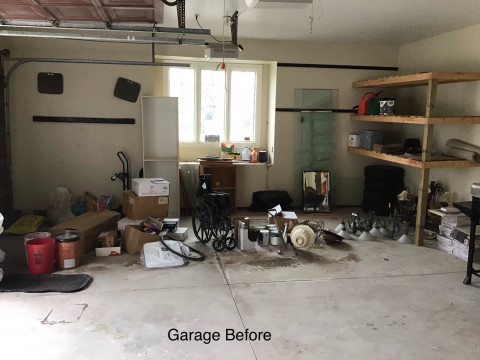 Welcome to Savvy Home Organizing Solutions, providing Home Organizing and Concierge Services throughout the GTA and Toronto.
Hello, I am Meni Morra and I am passionate about organization! I grew up in the great city of Toronto and then made the move to the GTA. I currently reside in Aurora with my husband and teenage daughter.
After a successful career in the corporate world then becoming a homemaker and managing my household, I decided to turn my love for organizing and savvy management skills into a business.
Typically, you'll find a service provider offering Home Organization or Concierge services which in my experience limits your options which can become frustrating when searching for help. I believe that combining these services into a multiservice company gives people an all-inclusive resource for all their needs.
Why choose Savvy Home Organizing Solutions?
As an active member, in good standing with the Professional Organizers in Canada (POC) I adhere to their strict code of ethics. I take great pride in my work and use my keen attention to detail, invaluable skills and experience to create organized, stress free spaces and lives. With my energetic and understanding approach I work closely with you and believe that together we can turn your vision for your home and life into a reality.I offer a free in-home consultation, competitive hourly rates as well as volume-based packages. I understand the importance of your home, your family and the value of your time therefore, I strive to offer trusted and personal service.
Let me do the same for you!
Professional Home Organizing
If the thought of tackling cluttered space(s) in your home seems daunting, don't worry I am here to work with you or if you prefer do it myself.
Here is how the process to an organized life begins. The first step would be a no pressure talk over the phone or via email to get a sense of what you need, address your concerns and answer all your questions. From there we can schedule a free, no obligation, in home consultation.
At this through, one-hour assessment I will look at your space, discuss your needs and decide on the best course of action to achieve your goals for your space. Afterwards, an estimate will be prepared based on the number of hours required to complete the project. I offer competitive hourly rates as well as volume- based packages to ensure you get the best value for your money.
Areas requiring organizing include:
• Kitchen, laundry, bathroom, bedroom, closet, living/dining room, office, mudroom, playroom, basement, storage room, garage.
Once the decluttering and organizing is complete I can manage the junk/trash removal and charitable donations.
Other services include:
• Moves & Renovations: Help to prepare for a move and or renovations. I will declutter, pack/unpack and organize your new space.
• Downsizing/Senior Transitions: Whether you just want to simplify your life by moving into a smaller space or assist loved ones transitioning to senior
living. My sensitive and understanding approach will assist with this next chapter in life by working with the homeowner and family to make this
transition as easy and stress free as possible.
• Estates and Bereavement: At this time of loss you should be focusing on you and your family not dealing with the painful task of going through
personal belongings. I will respectfully manage this for you.
Personal Concierge Services
In the past when you heard the term Concierge the first thing that came to mind was a luxury hotel or condo. Their role is to assist people in areas of lifestyle and personal management which seemed out of reach to most of us.
In today's modern world, more and more overwhelmed people are outsourcing almost any aspect of their life in order to restore balance and a sense of calm to their overloaded life. I understand the stresses that a household, family and career presents to busy people and can assist you as a Lifestyle Manager.
Services Include:
• Travel Planning: Internet research, booking, planning itineraries, arranging transportation.
• Home Watch: Whether you are on a personal or business trip I can give you the peace of mind that your home will be attended to. I can pick up
mail/flyers, feed pets, water plants. Also, I can restock your fridge/pantry, air out the house, turn water back on, turn up the thermostat or turn on the
air conditioner. This way you can enjoy the comforts of home immediately upon your return.
• Wait Services: We all have experienced the dreaded "window" that couriers and service people tend to use when arranging a delivery or
appointment. Why take the day off when I can do the waiting for you.
• Events: Whether it's at your home or at another location I can help with arranging catering, décor set up/take down, and clean up. You can
enjoy being a guest at your own party.
Other services include:
• Personal shopping, gift shopping/wrapping, opening/mailing packages, administrative tasks, arranging home services such as cleaning, renovations
(quotes, scheduling, trade/project management).
The range of my services are endless so put my expertise to the test!
Please check out my website www.savvyhomeorganizingsolutions.ca for a full description of services.
Thank you!!