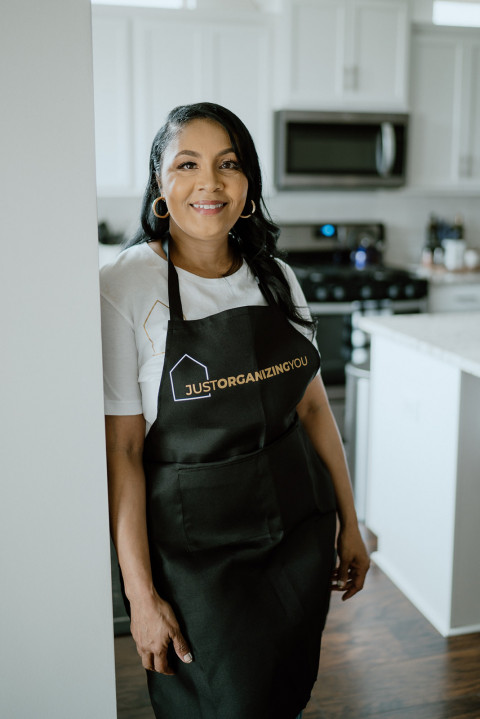 Hello,
I'm Shannon Founder & CEO
of Just Organizing You, LLC.
I am a Woman of faith, A Wife, A Mother
of two adult children &
a new GiGi. I am also
a servant to those who need
a Professional Organizer.
One of the greatest investments is hiring
a ProOrganizer to have "An Organized
space".✨
Are you looking to get your Home and/or
Office organized?
I'll be happy to help you!
Rather it's Virtual Organizing Services or In-Home Organizational Services you won't
be disappointed!
Rather it's one area of your home or your
whole-house —I can help you get organized
and bring JOY to your space.
After all you deserve to spend time creating memories, so why not create them in a space
you can feel happy about.
Why hire a Professional Organizer?
✨I'm so excited to tell you about
the importance of doing so:
1. If you don't know where to start or the
process is just overwhelming to
you. 

2. Busy and just don't have a lot of time
on your hand.

3. You've started organizing; however,
you're frustrated and stopped the
process.
4. You're tired!
5. You need a fresh start.
6. Your Atmosphere needs changing.
7. You realize you need the help and you
need it now.
8. Organization sounds like it could be
your new friend.?
9. You're ready to have your own
Professional Organizer to get your
new future together. 

✨If you answered YES to any of the above,
it's time to hire your girl; I can help you
with all of your organizing needs!
Personal Virtual Organizing
Do you live beyond Lafayette, Louisiana?
Are you on a budget but you still desperately need to organize your home? Our Personal Virtual Organizing service is a great option
for you!
I will tour your space via video chat and give
you expert organizing advice for you to make
the most of your space. Additionally, I will
guide you on what products you will need for your home or office.
After this session, you will be ready to
tackle your project like a champ! While you are in the process of bringing your vision into
completion, you will also receive a
follow-up call to check in on the
progression of our DIY project.
In-Home Organizing
Is it hard for you to find things? Does it seem
as though things have gotten out of control
and you're feeling overwhelmed?
No worries, I got you!
It's just time for some decluttering to
get your space organized and refreshed!
Just Organizing You is at your service to transform your space to the peaceful atmosphere you deserve. Not only will it
be a joyful experience ,you'll be gain great
insight on how to keep your space
tidy.
Let's get started!
Bedrooms | Closets | Kitchens | Laundry rooms | Mudrooms | Offices | Pantries & More!