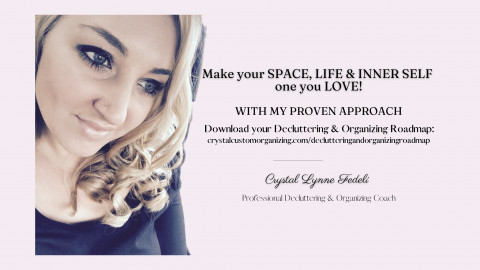 Hey beautiful! My name is Crystal Fedeli. I'm an International Professional Decluttering & Organizing Coach and I help women who are overwhelmed by either being a mom, a career woman, or both who are ready to transform their lives by decluttering and organizing their space, life and inner self to one they love!
It's my mission to help you declutter and organize - get rid of chronic clutter and organizational blocks; feel on top of your schedule, time and responsibilities; and feel at peace within yourself so you can love your space, life and inner self.
DECLUTTER AND ORGANIZE YOUR SPACE, LIFE & INNER SELF WITH MY PROVEN ROADMAP!
https://crystalcustomorganizing.com/declutteringandorganizingroadmap
YOU CAN have a decluttered and organized space, life and inner self - while being a mommy, career woman or both. I will show you how!
Specialties
Chronic Disorganization Expertise
Clutter Elimination & Coaching
Decluttering & Reorganization
Hoarding Help Specialist (Cleanup, Coaching)
Organizing Workshops
Productivity & Time Management Coaching