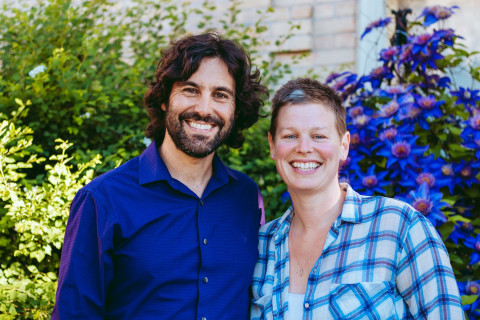 Under Covid-19 Lockdown? Watch our "How to Declutter & Organize Any Space" online course for 14 days FREE: https://www.skillshare.com/r/user/kwpo
We are Samantha and Emilio, the husband-and-wife duo behind KW Professional Organizers (KWPO). Since 2012 we have been helping people transform their lives through organizing their belongings.
Our goal is to share proven organizational strategies to help you create more time, space, and energy – to do the things that you love and create your desired lifestyle.
Our clients say:
"Samantha and Emilio came in to help me take care of my husbands things after his passing. They were understanding and empathetic. Over 2 days things were sorted, donated, items that were going to be sold were catalogued and photographed and kept items were put back labelled and tidy. I couldn't have asked for a better team to help me through it. Thanks to both of them for a job well done!"
"I love Samantha and Emilio. They are kind and helpful and really really want to help. They converted my mess of a bedroom and closet into a space that I can love again, and can take care of going forward. I highly recommend these guys! I'm going to be hiring them again to tackle more spaces in my home."
"With a short closing date on our family home we were in a major panic. My sister and I live a 2 hour round trip from our parents home. We only had a few weekends, SO we called Samantha and Emilio to help us. What they were able to do in a couple days was amazing. "
Specialties
Clutter Elimination & Coaching
Decluttering & Reorganization
Home Organization
Minimalism
Online Education And Courses
Organizing Workshops
Personal Coaching
Public Speaking
Residential Organizing And Downsizing
Small Spaces
Tips For Maintaining Organization
Total House Organization And De-cluttering
We Are International Speakers - Workshops, Lunch and Learns, Keynotes, Wellness Series
We Are Konmari Friendly :-) We Can Follow the Marie Kondo Method.
We Have a Published Hardcover Book
We Have Free Videos on Our Youtube Channel
We Have Online Courses in Our Kwpo Academy